Hello Doritos!
Have you been grinding to get all the cart surfer stamps, but don't know where to start? This guide will explain how to get all of the stamps, and that sweet sweet coin multiplier.
There are 12 stamps you have to earn, and once you do that then any coins you get from cart surfer are doubled.
Great Balance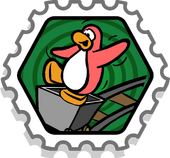 Recover from a wobble
Great Balance is an easy stamp to get. Just turn around a corner (left or right –>) until your penguin looks like it is wobbling. Once the wobble animation plays, then stop turning to recover.
Puffle Power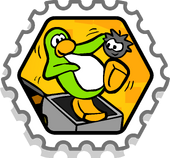 Recover from a wobble with a puffle
Same thing as great balance but with a puffle. In order to play with a puffle you must enter the game walking a black puffle.
Mine Marvel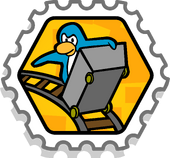 Perform 10 tricks inside the cart
To get Mine Marvel you have to do tricks while inside the cart. These include tricks like backflips (↓ + spacebar) and sideways twists (spacebar+ left or right –>)
Mine Mission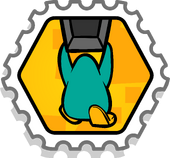 Same thing as Mine Marvel but with tricks outside of the cart. Tricks such as handstands (up ↑ + up ↑)
or running outside the cart (down ↓ + down ↓)
Trickmaster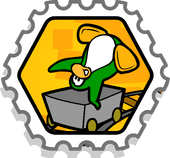 Perform 14 different tricks
This is one of the trickier stamps to get. It requires that you perform every trick in the game. It includes the following
spacebar – jump
up ↑ – stand

up

↑

+ space – surf jump

left ← - turn left
right → - turn right
down ↓ + left ← - left grind
down ↓ + right → - right grind
spacebar + up ↑ - leap
spacebar + ← - left spin
spacebar + → - right spin
down ↓ + space - backflip
up ↑ + up ↑ - handstand
down ↓ + down ↓ - running on tracks
space + down ↓ - groundpound
Mine Grind
Grind around 8 corners
There are 8 corners in the game, so for this one you need to do a "grind" trick around all 8. To grind, press the down arrow before you turn.
Surf's Up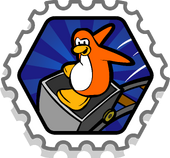 Surf around 8 corners
Similar to Mine Grind, but instead of grinding you must surf around all the corners. To do this, press the up arrow to get out of the cart before completing a normal turn.
Flipmania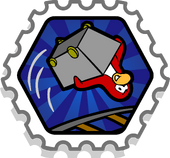 Flip 20 times in a row without crashing
Complete the backflip trick (down arrow + space) 20 times in a match without turning. Do nothing but backflip and turn, and if you just keep flipping you should eventually get it. You HAVE to do normal turns, because grinds are considered tricks and "interrupt" your task.
Ultimate Duo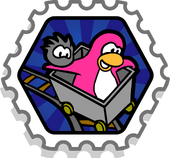 Perform 20 tricks with your puffle
Grab your black puffle again and head to the mine. Just try and do 20 different tricks over the course of the game. I suggest 10 in cart and 10 out of cart, but you can mix it up however you see fit.
Cart Pro/Expert/

Master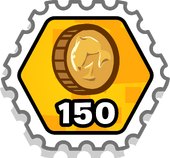 Earn 150/250/350 coins in one game
These are the coin stamps. For every 100 points you get in cart surfer, you also get 10 coins. That means that you need to earn 1,500, 2,500, and 3,500 points respectively for the stamps. The best way to grind (no pun intended) points/coins is to alternate between the backflips (down arrow + space) and forward turns (space + left/right arrows) to maximize point value (as each trick in a row reduces the number of points it is worth by half)
I hope these tips have helped you to become a pro at cart surfer! Let me know what cheats/guides you want to see next.
On behalf of the Crunchy Cheats Crew
Waddle on
Filed under: Club Penguin Cheats and Tips, Doritos Army, New Club Penguin Cheats | Tagged: cart expert, cart master, cart pro, cart surfer, club penguin, club penguin cart surfer, Club Penguin Cheats, club penguin coins, club penguin guide, club penguin stamps, club penguin stamps guide, coins, doritos of club penguin, fast coins, flipmania, great balance, guide, hard stamps, mine grind, mine marvel, mine mission, New Club Penguin, puffle power, stamp, stamps, surf's up, trick master, trickmaster, tutorial, ultimate duo |